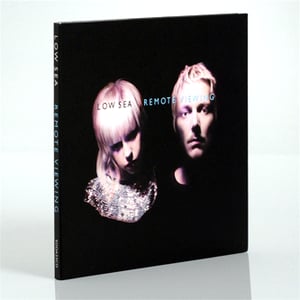 €

12.00
TRACK LISTING :
01 Afflictions Of Love
02 Sentimental Games
03 Remote Viewing
04 When I'm Feeling Down
05 Starlight
06 Cast A Cold Eye
07 Breathing In Too Fast
08 Alex
09 Acid Ocean
10 Last Rain
11 Artificial Light
Brand New - Sealed CD.
ABOUT THIS ITEM
"The sound of Spacemen 3 and Mazzy Star being thrown into the most tranquil ocean leaving the listener pining for the inevitable beautiful songs to emerge from below." This is Low Sea and their album that they appropriately describe as Grey Disco. It is synth pop of a very European nature, shot through with a bolt of blue.
The duo, Bosnian-born Billie and Bobby D from Liverpool first met while living in the United States. Billie had spent her early years in Bosnia until the war broke out in Former Yugoslavia, during which she fled to live in San Francisco (and was initially unwillingly part of a cult). In stark contrast Bobby took a more insular route to their path, one involving an endless headphone cycle of A-ha, Cocteau Twins, 808 State and My Bloody Valentine.
Having released a mini album on US based Lefse Records (How To Dress Well, Neon Indian) they conspired with Dell'Orso records with a view to releasing a narcotic pop album having bonded over a love for AR Kane, New Order and Lali Puna.
Much of the album was recorded and self produced in their current residence, a cottage, overlooking the light house and harbour in an isolated fishing village on the Irish coast. However Low Sea had to pinch themselves when the legendary Stephen Hague (Pet Shop Boys, New Order, PIL) agreed to mix some of the tracks on the album, including the title track, Remote Viewing (which is also the lead single). You can understand why Stephen Hague was interested though. Like many of his records, Low Sea's music is insular euphoria, one born out of 4AM cigarettes, nostalgia for the future and a melancholic happiness.
Low Sea's music has been described as like "Julee Cruise on sedatives" and this is certainly true of the album's centre point 'Acid Ocean', an extraordinary torch song as forlorn as Kim Novak dropping into the Bay. Elsewhere Sentimental Games sounds like Altered Images on board the Trans European Express whilst the seasick lo-nrg of Breathing In Too Fast is like the orphan child of Vivien Goldman and Joy Division.
This is the sound of Low Sea. Why does it hurt when my heart misses a beat? That is just pop music for you. Immerse yourself.